TECHNICAL SESSION FOR PROFESSIONAL INSTALLERS Launch of Eutonomy euLINK
Oct, 26 2021 | 2:00 PM - 4.00 PM CET Time, Online Conference
THE REVOLUTION IS COMING
IN THE WORLD OF SMART BUILDINGS
Register Now
More about euLINK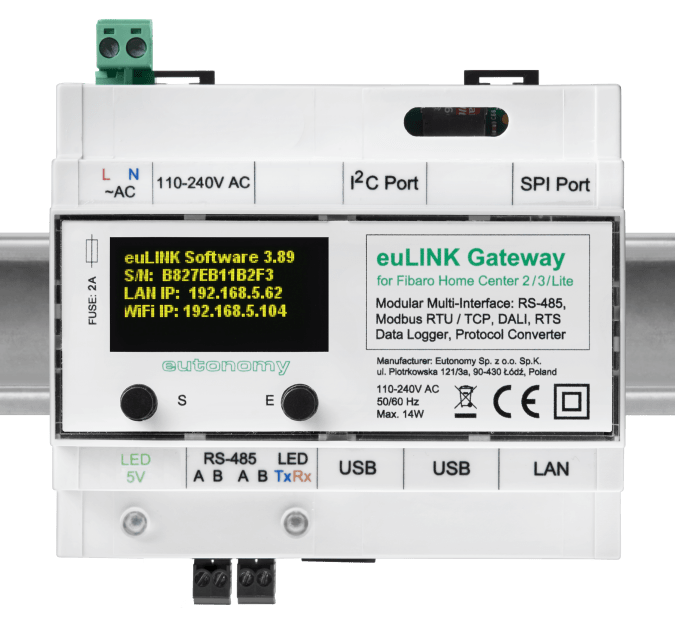 About euLINK
WITH euLINK YOU CREATE A BUILDING WITH FULL SMART FUNCTIONALITY, SAFE AND ENERGY- SAVING
euLINK is the common communication language for all building installations and items operating in the IoT (Internet of Things) standard.
euLINK can combine electrical, telecommunication and HVAC installations, alarm systems, sound systems, monitoring, building security, metering and all others.
euLINK enables any development of building automation functionality by any manufacturer from around the world.
Eutonomy euLINK and FIBARO Home Center 3 combines all the most important functions of intelligent building management,
Agenda 
October 26th, 2021 2.00 PM – 4.00 PM CET
Welcome
Jan Kroh, Eutonomy  Maciej Skrzypczyński, Eutonomy                Krzysztof Banasiak, FIBARO
Paweł Skorupski, FIBARO
 The Revolution is Coming
Maciej Skrzypczyński       Jan Kroh
How the euLINK  gateway works.
How to connect euLINk to the FIBARO HOME CENTER.
What is a template and how to use it.
Meet euCLOUD – a repository of ready-to-use templates.
How you can create templates for selected devices.
"Your own template Program" and benefits for installers.
2021-10-19 EUROPEAN euLINK LAUNCH
2021-10-26
 TECHNICAL SESSION
FOR PROFESSIONAL INSTALLERS 2 pm – 4 pm